This Monday, and next monday we will be aerating the fairways. This is all too new for me, so I wanted to learn more about it. What it is and why we do it. So here is a little how and why about the importance of aeration, and some pictures of our course doing the job!
Aeration is the process by which holes are put into the greens to allow for (air) to be able to get into the soil beneath the greens or fairways. Aeration is needed when the soil beneath the surface becomes compacted. When the soil is compacted, the grass roots struggle to breathe. This process is so important to stimulate healthy root growth, by getting much needed oxygen into the high traffic areas.
**Making a clean aeration hole expedites turf recovery. The goal is to make a clean, surgical cut so t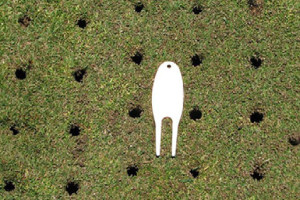 hat the turf heals rapidly and redirects its energy to producing new roots and leaves to fill the voids. (USGA Green Section)**
This process golfers begrudgingly understand, and we will try to get it finished in a timely manner. It is a necessary evil that keep our course on the right track to repair and improve overall course health!
PNGC Aeration of the Fairways –