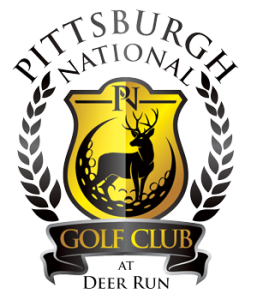 Weekly Newsletter 9/25/15
Things at Pittsburgh National Golf Club change all the time, so we decided to dedicate every Friday to a newsletter update. If there is anything specific that you would like to know about just leave a note in the comments below.
Member and Course News
We are so honored to take some time this week to talk about two of our members and their recent accomplishments, Sean Knapp and Nathan Smith, are considered two of the best amateur golfers in this part of the state. Together, they won the Palmer Cup September 17th!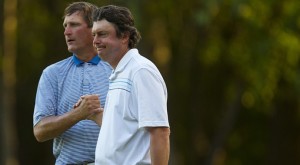 The two of them tee'd up against Bob Ford (director of golf at Oakmont Country Club) and his successor Devin Gee. Bob Ford is arguably one of the best club professional in the country! Sean and Nathan, built a pretty strong lead in the first few holes, that the pro's just couldn't catch up to. By the end of the day Knapp and Smith finished with four birdies, and no bogeys, While their competitors made just two birdies, and two bogeys. (Impressive!)
Also, on September 10th Knapp won the 30th annual  Mid-Amateur Championship for the record breaking 9th time! He played an awesome 18 holes, making 5 birdies, and 3 bogeys for a total score of 70.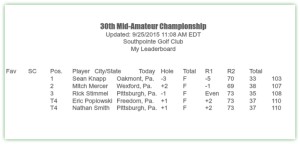 Sean Knapp and Nathan Smith will be inducted into the West Penn Golf Association Hall of Fame, October 14th at Chartiers Country Club. We are so proud to call them our members!
Congratulations guys!
Also in course news….
Our aeration of the fairways will continue Monday the 28th and Tuesday the 29th.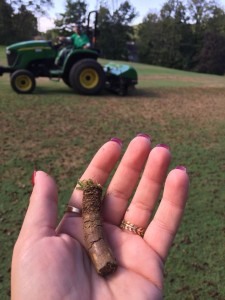 We understand that only having 9 holes open is not ideal, but this process will help reduce compaction, reduce thatch and also help prevent disease. We appreciate your understanding during this process and for your consideration we will be offering special rates during these days.
9 Holes with cart-$10
18 Holes with cart-$18
Pittsburgh National Golf Club, Sports Clips, and The VFW have partnered up to help some heroes!
We have set up a golf outing and banquet to raise some money for this great cause.
To learn a little more about "Help a Hero" click the "Help a Hero" button below for a short clip.
SAVE THE DATE
Our day for help a hero will be set for Friday, October 2nd 2015. Signups are via the internet listed below, at sports clips in Gibsonia, or by registering with us at the pro shop.
Cost will be $100 per person for the outing and banquet.
Four person scramble, shotgun start 9 am
Registration – 7:30 am
Pastry with coffee, at registration. Hot dog and bottle of water at the turn!
  IF you're a non-golfer and you just want to come to the banquet for the awards ceremony, awesome basket raffles and games.
Entry with meal will be $35
For more information give us a call at the pro shop (724)265-4800 , Or inquire at sports clips.
If you would like to donate or  would like to inquire about donations please contact Devyn Bauer at PNGC (724)265-4800
Click here to register for the event .
Harry's Bar and Grill
Brawler Pugilist Style Ale is now on tap at Harry's! 'Brawler' is an English style dark mild ale. Would be paired well with a pulled pork BBQ sandwich from Harry's or maybe the Sriracha Shrimp with Ryan's signature sauce. Stop in and have one. See you soon!
Other News
Memberships are out and are ready to be purchased for 2016. Make sure you have a look at our membership package Here .
Hope to see you around the course!
-The Team at Pittsburgh National Golf Club