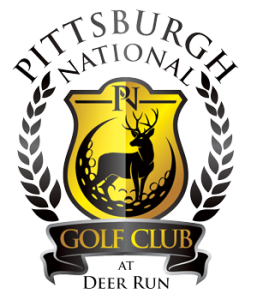 Weekly Newsletter 9/11/15
Things at Pittsburgh National Golf Club change all the time! So we decided to dedicate every Friday to a newsletter update. This week's is a day late due to the holiday. If there is anything specific that you would like to know about just let us know in the comments below.
Course News
So we got some rain! The pond is really starting to look better, and hopefully the rain will help get the grass that is browning back to a healthy state. We have been getting sprinkler heads fixed, and new ones put in place. The new well we tapped into for water is finally starting to make a difference along with the rain! Our grounds crew have been feverishly trying to get water out on the course.
I've attached some pictures of the pond progress. how it looked before the added water and how it looked after.
After:
Also, fixing the sprinkler heads is  a huge to do. But, I managed to snag a few pictures of "The Alan's" working on it with our General Manager Josh.
Also in course news….
Pittsburgh National Golf Club, Sports Clips, and The VFW have partnered up to help some heroes!
We have set up a golf outing and banquet to raise some money for this great cause.
To learn a little more about "Help a Hero" click the "Help a Hero" button below for a short clip.
SAVE THE DATE
Our day for help a hero will be set for Friday, October 2nd 2015. Signups are via the internet listed below, at sports clips in Gibsonia, or by registering with us at the pro shop.
Cost will be $100 per person for the outing and banquet.
Four person scramble, shotgun start 9 am
Registration – 7:30 am
Pastry with coffee, at registration. Hot dog and bottle of water at the turn!
  IF you're a non-golfer and you just want to come to the banquet for the awards ceremony, awesome basket raffles and games.
Entry with meal will be $35
For more information give us a call at the pro shop (724)265-4800 , Or inquire at sports clips.
If you would like to donate or  would like to inquire about donations please contact Devyn Bauer at PNGC (724)265-4800
Click here to register for the event .
Pro Shop
This week in the pro shop you may notice a new face or two. So bear with us as we train them to the system. Also, we have in a new line of hat's and have updated some of our merchandise. We have most of what you may require for your golf needs, so stop in and see us!
Harry's Bar and Grill
Harry's is pleased to announce our "Italian Family Style Sit Down Dinners". They will take place Saturday's in September. So 9/12 will be our first one! We have a superb menu lined up, and they will change each week. So make sure you check our emails and web posts to keep updated with all the menu changes!
Happy Hours are Friday's from 4 pm-6 pm , where there is always a list of $5 appetizers and drink specials.
Other News
Memberships are out and are ready to be purchased for 2016. Make sure you have a look at our membership package Here .
Hope to see you around the course!
-The Team at Pittsburgh National Golf Club